Legalcommunity Week 2023 draws to a close: diary of the 4th day
The Legalcommunity Week is the event organized by LC Publishing Group, which has been bringing together the Italian and international legal community in Milan since 2017. The seventh edition, taking place from June 12th to June 16th, 2023, will be held primarily at Milan's Principe di Savoia hotel, hosting over 20 conferences, roundtable discussions, and forums on the hottest topics in the legal profession today. Institutional events will be followed by daily networking and entertainment opportunities throughout the city, including cocktail receptions hosted by law firms for Week participants, the non-competitive morning run called Run The Law along the Naviglio Grande, and Rock The Law, a music contest where bands comprised of lawyers and professionals perform on the prestigious stage at Fabrique.
The culmination of the Legalcommunity Week is the Legalcommunity Corporate Awards, a gala evening where outstanding business law firms and professionals are recognized and honored for their achievements in the preceding 12 months.
For all information regarding the Legalcommunity Week 2023, including the program, speakers, and event registration, the reference link is www.legalcommunityweek.com
For the complete diary click here
FOURTH DAY – Thursday, June 15, 2023
The final day of the Legalcommunity Week 2023 concluded at the Principe di Savoia in Milan. The morning featured three separate events.
Firstly, a conference delved into the "Challenges and opportunities of the Italian tax reform." Introduced by an opening speech from Guglielmo Maisto, senior partner at Maisto e associati, and a keynote speech by Maurizio Leo, Deputy Minister of Economy and Finance, the conference was divided into two segments.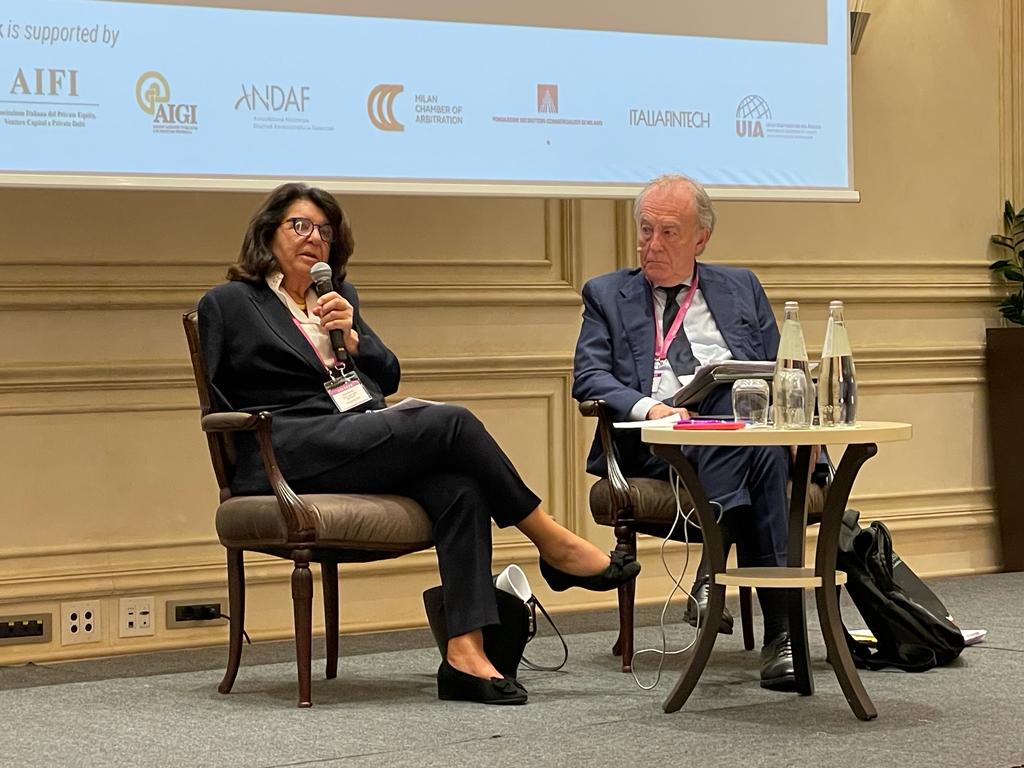 The first segment, moderated by Guglielmo Maisto, saw Marco Osnato, President of the Finance Committee of the Chamber of Deputies (remote participation), and Paola Severino, lawyer and President of the National School of Public Administration and Guido Carli University, discussing the question "Where are we now?"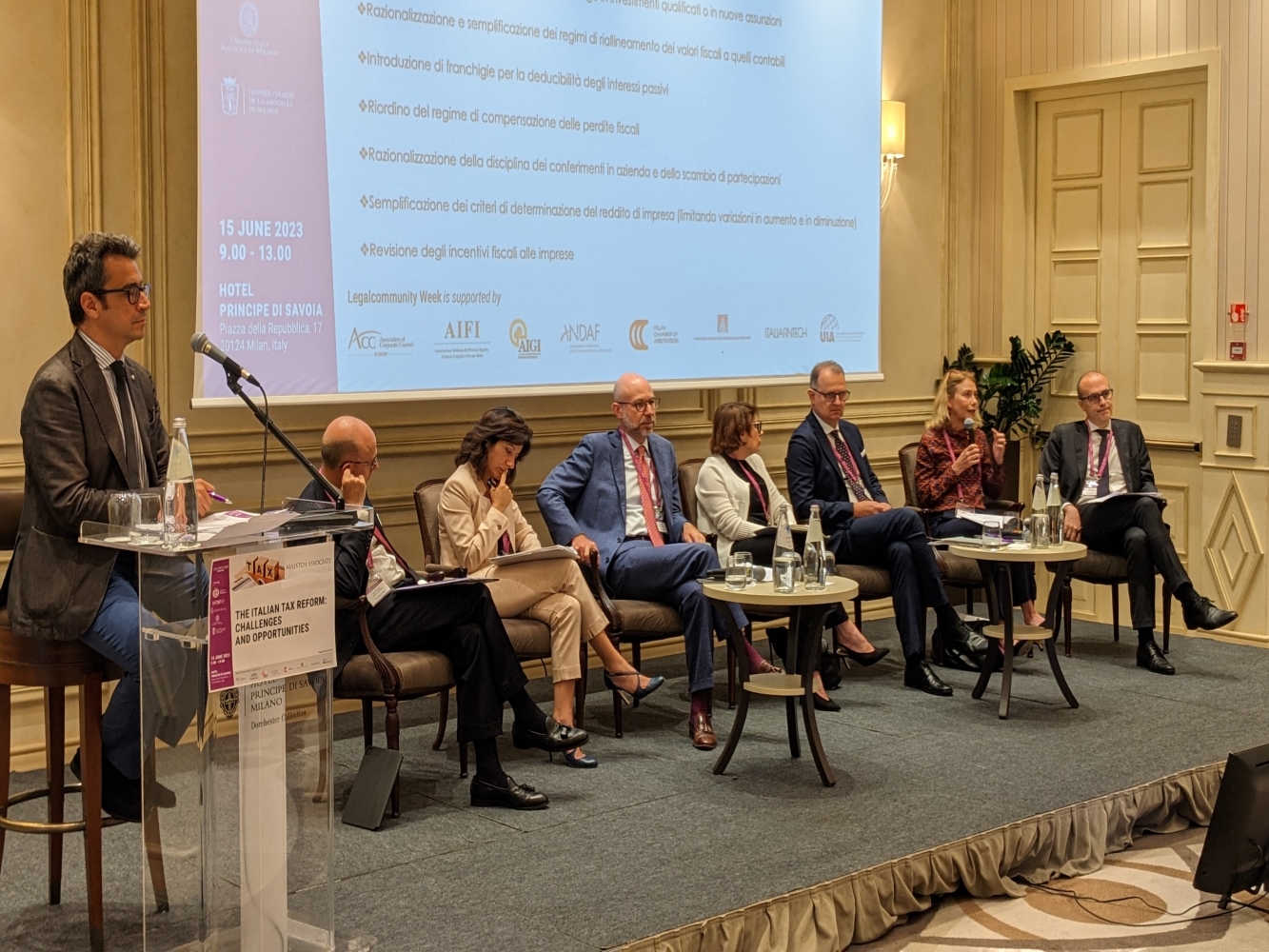 After a quick coffee break, the second panel, moderated by Nicola Di Molfetta, editor-in-chief of Legalcommunity and MAG, was titled "Main impacts of the reform on international law, (income taxes) IRES, financial income, private equity, wealth management and self-assessment, rulings and tax litigation procedures." The speakers included Marco Allena, full professor of tax law at the Catholic University of the Sacred Heart; Marco Cerrato, partner at Maisto e associati; Andrea Nobili, head of the tax and accounting advisory unit at the Italian Banking Association; Pamela Palazzi, head of tax at Sky Italia and EU tax policy director at Comcast Group; Stefania Pedroni, head of wealth planning at Intesa Sanpaolo Private Banking; Nicoletta Savini, group head of tax at TIM; and Marco Valdonio, partner at Maisto e associati.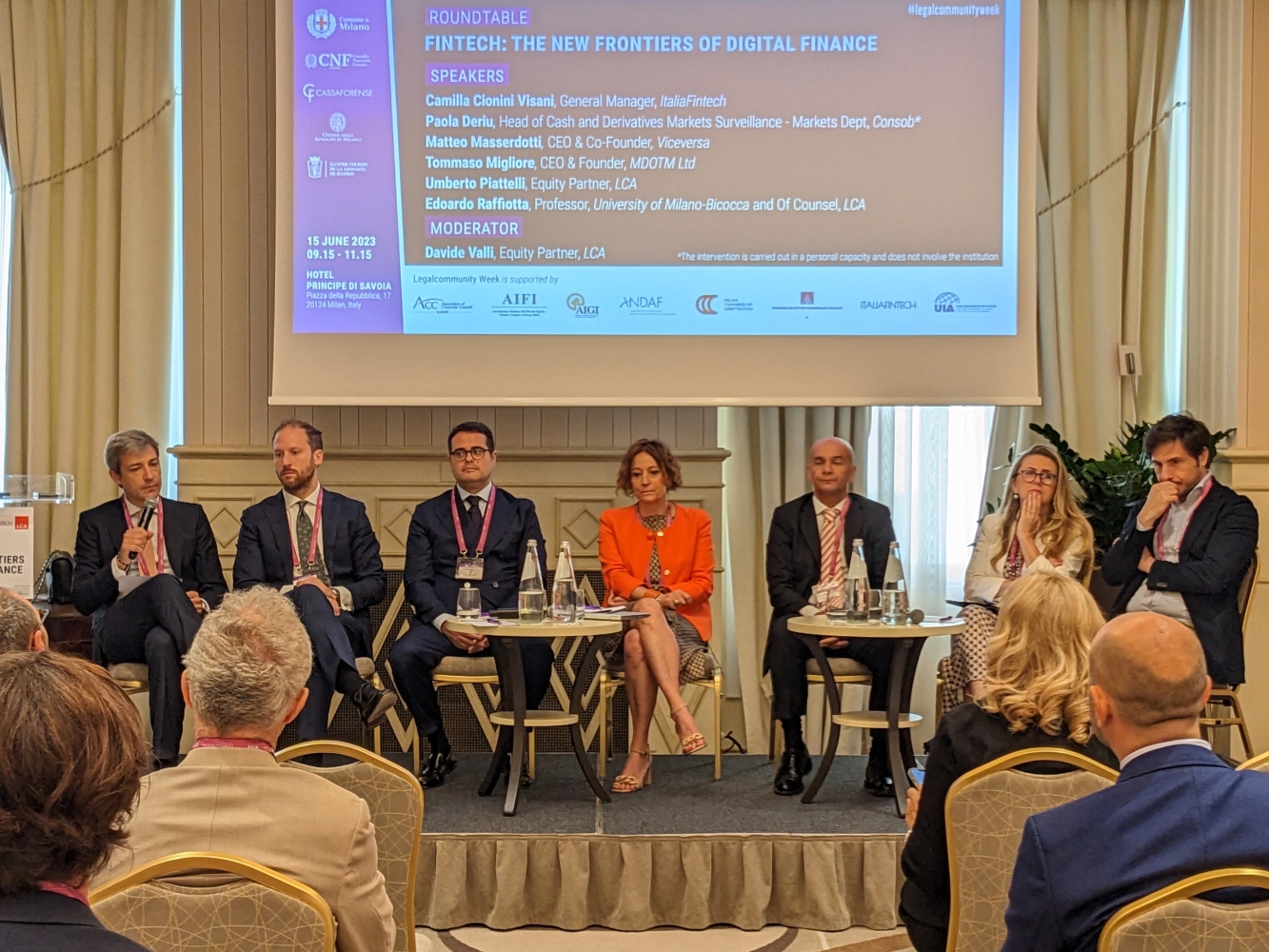 Simultaneously, starting at 9:15, a roundtable on the theme "Fintech: the new frontiers of digital finance" was moderated by Davide Valli, equity partner at LCA, and featured the contributions of Camilla Cionini Visani, general manager of Italiafintech; Paola Deriu, head of cash and derivatives markets surveillance – Markets Dept at Consob; Matteo Masserdotti, CEO and co-founder of Viceversa; Tommaso Migliore, CEO and founder of Mdotm; Umberto Piattelli, equity partner at LCA; and Edoardo Raffiotta, professor at the University of Milano-Bicocca and of counsel at LCA.
From 11 am to 1 pm, there was a focus on sustainability with the roundtable "The role of compliance in setting a sustainable global supply chain." Participants included Isabella Bdoian Gonzales, Deputy General Counsel Europe Middle East Africa at Whirlpool; Alessandro Chelli, co-founder and CEO of Apio & Trusty; Simone Davini, Head of Legal & Corporate Affairs at Crédit Agricole Cib Italy; Luís Graça Rodrigues, Head of Legal Department at Indra Italia; Senda Maaouia, Chief Legal and Compliance Officer and Board Secretary at Orange Tunisie; Francesca Marino, Senior Partner at Athena Professionisti e Consulenti Associati; Valentina Ranno, General Counsel and Head of Legal & Compliance at L'Oréal; Luisa Romano, Senior Associate at Bergs & More, with moderation by Eugenio Bettella, founding and managing partner at Bergs & More.
In the afternoon, the Week 2023 concluded with three institutional events.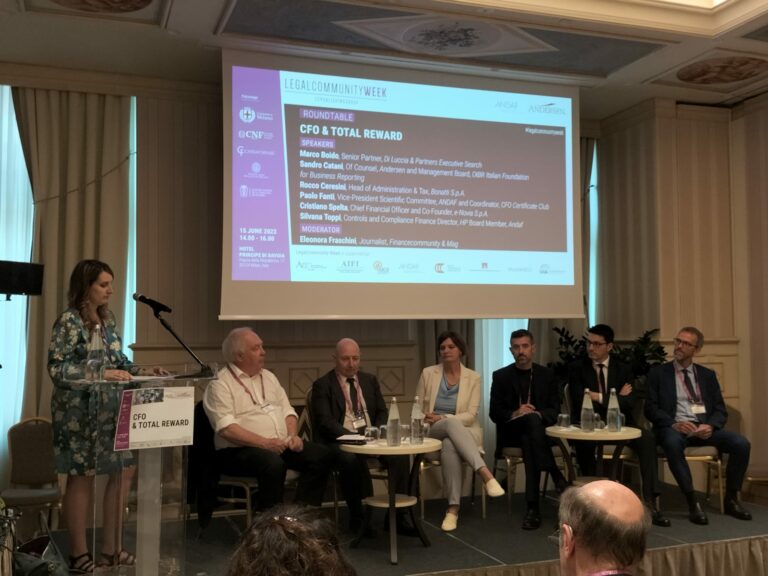 From 2 pm to 4 pm, the roundtable "CFO & total reward" was moderated by Eleonora Fraschini, journalist at Financecommunity and MAG, with the participation of Sandro Catani, of counsel at Andersen and member of Oibr's management; Rocco Ceresini, Head of Administration & Tax at Bonatti; Paolo Fanti, Vice President of the Scientific Committee of Andaf and coordinator of the CFO Certificate Club; Marco Boido, Senior Partner at Di Luccia & Partners Executive Search; Cristiano Spelta, Chief Financial Officer and Co-founder of e-Novia; Silvana Toppi, Controls and Compliance Finance Director at HP and board member of Andaf.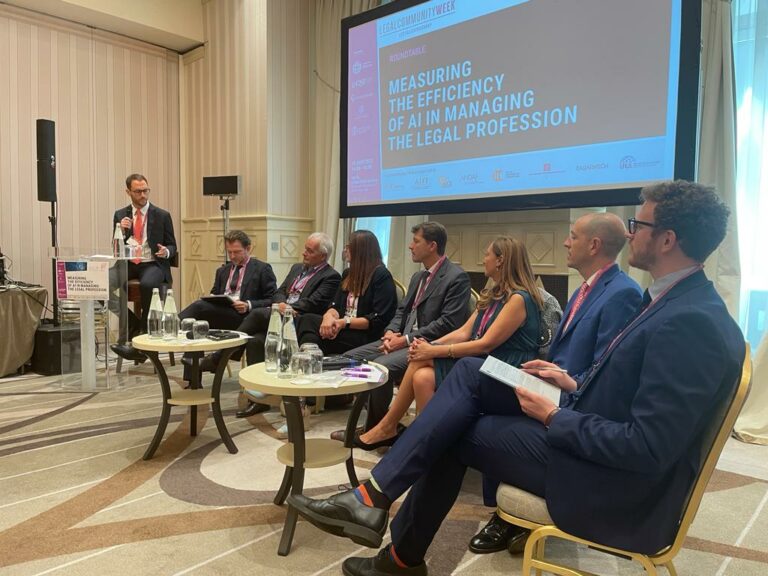 In the same time slot, there was a panel discussion on artificial intelligence as the last panel of Week 2023. This time, the discussion focused on "Measuring the efficiency of AI in managing the legal profession." Moderated by Giuseppe Salemme, journalist at Legalcommunity and MAG, the panel featured Matteo Colonna, Senior Legal Counsel at Ntt Data Italia; Filippo Galluccio, Head of Legal Corporate & Contracting at Vodafone; Luca Gilardoni, Chief Operating Officer at Elibra; Giovanni Lombardi, General Counsel at Illimity Bank and General Manager of Fondazione Illimity; Silvia Mazza, Key Accounts Director at Elibra; and Giuseppe Vaciago, Partner at 42 Law Firm.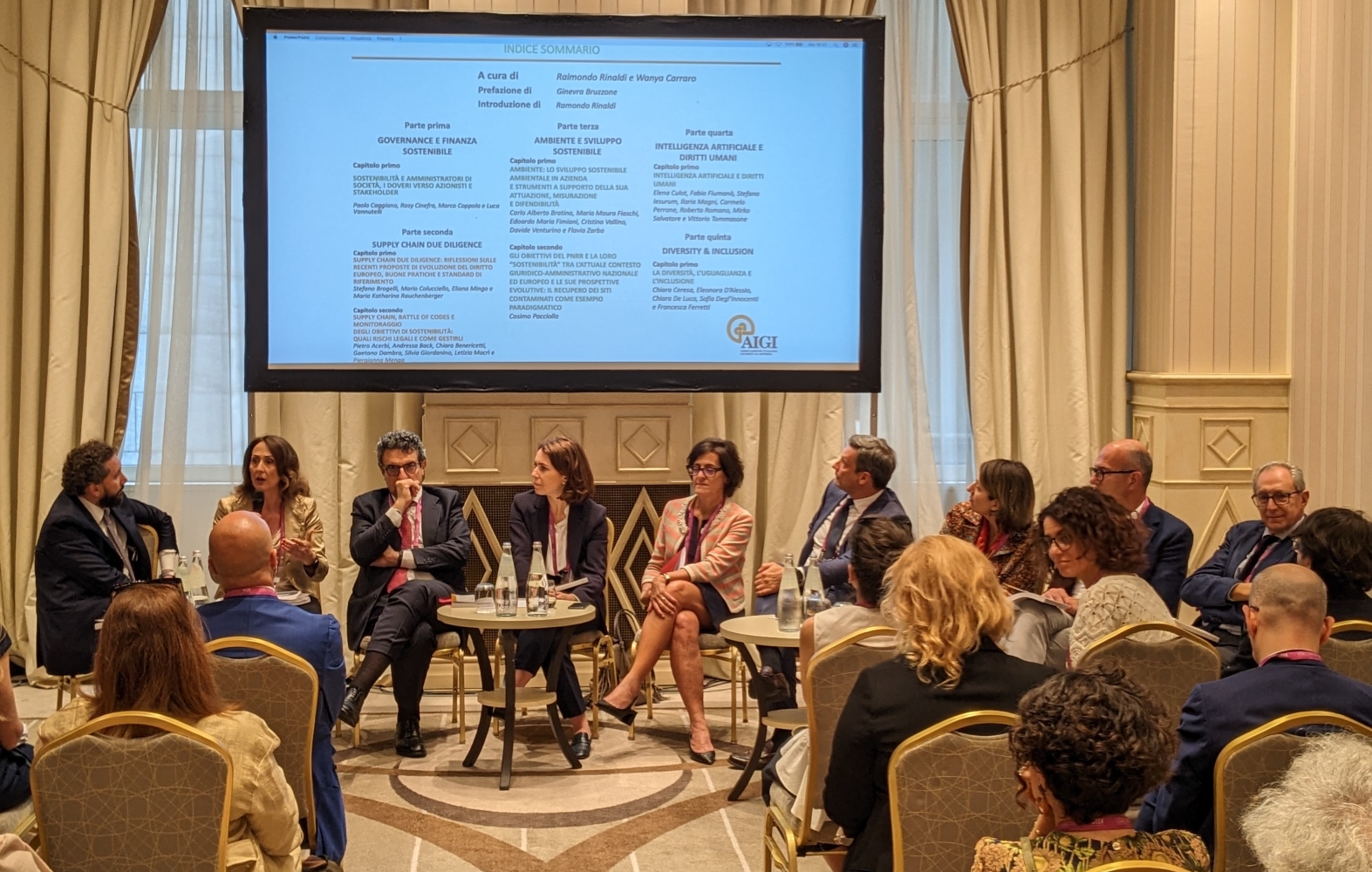 To conclude the Week's activities, from 4 pm to 6 pm, there was a book presentation of "La sostenibilità e il giurista in azienda" (Sustainability and the Lawyer in the Company), published by Giuffré in collaboration with Aigi and edited by Raimondo Rinaldi, Emeritus President of Aigi, and Wanya Carraro, Vice President and Communication Manager of Aigi. Along with the two editors, Miriam Allena, of counsel at Baker McKenzie; Alessandra Bini, Senior Counsel and Trust and Compliance Officer Europe at IBM and Lombardy-Liguria Responsible of Aigi; Giuseppe Catalano, Secretary of the Board of Directors and Head of Corporate Affairs at Assicurazioni Generali and President of Aigi; Andrea Di Paolo, Head of Legal, Compliance and Regulatory Affairs at BAT and Vice President of BAT Trieste; Pietro Galizzi, Head of Legal, Regulatory & Compliance Affairs at Eni Plenitude; and Paola Nocerino, General Counsel at Air Liquide Italia and member of Aigi participated in the presentation. The moderation was led by Andrea Camaiora, CEO and founder of The Skill.
After the program of meetings for this Week concluded, all participants were invited to the Palazzo del Ghiaccio in Milan for the 2023 edition of the Legalcommunity Corporate Awards!