Legalcommunity Week 2023, Diary of Third Day 
The Legalcommunity Week is the event organized by LC Publishing Group, which has been bringing together the Italian and international legal community in Milan since 2017. The seventh edition, taking place from June 12th to June 16th, 2023, will be held primarily at Milan's Principe di Savoia hotel, hosting over 20 conferences, roundtable discussions, and forums on the hottest topics in the legal profession today. Institutional events will be followed by daily networking and entertainment opportunities throughout the city, including cocktail receptions hosted by law firms for Week participants, the non-competitive morning run called Run The Law along the Naviglio Grande, and Rock The Law, a music contest where bands comprised of lawyers and professionals perform on the prestigious stage at Fabrique.
The culmination of the Legalcommunity Week is the Legalcommunity Corporate Awards, a gala evening where outstanding business law firms and professionals are recognized and honored for their achievements in the preceding 12 months.
For all information regarding the Legalcommunity Week 2023, including the program, speakers, and event registration, the reference link is www.legalcommunityweek.com
For the complete diary click here
THIRD DAY – Wednesday, June 14, 2023
The third day of Legalcommunity Week started early in the morning. At 6:15am, the participants of the event organized by LC Publishing gathered on the Naviglio Grande in Milan for a non-competitive 6km run to kick-start the day. Run The Law is the name of the event, now one of the most iconic ones in the conference.
Non-competitive race, certainly: but this doesn't mean we can't give proper recognition to the professionals who have shown themselves capable of "outperforming" the competition. Among the men, the fastest runners were, in order, Pasquale Gebbia from Lexademy, Marco Panero from Unicredit, and Marco Nardone from Lexademy. The women's podium, on the other hand, was composed of Marina De Cesare from the associated law firm Masciello Nannoni, Mara Boffa from IFBT, and Paola Pellegrini from Ethica Group.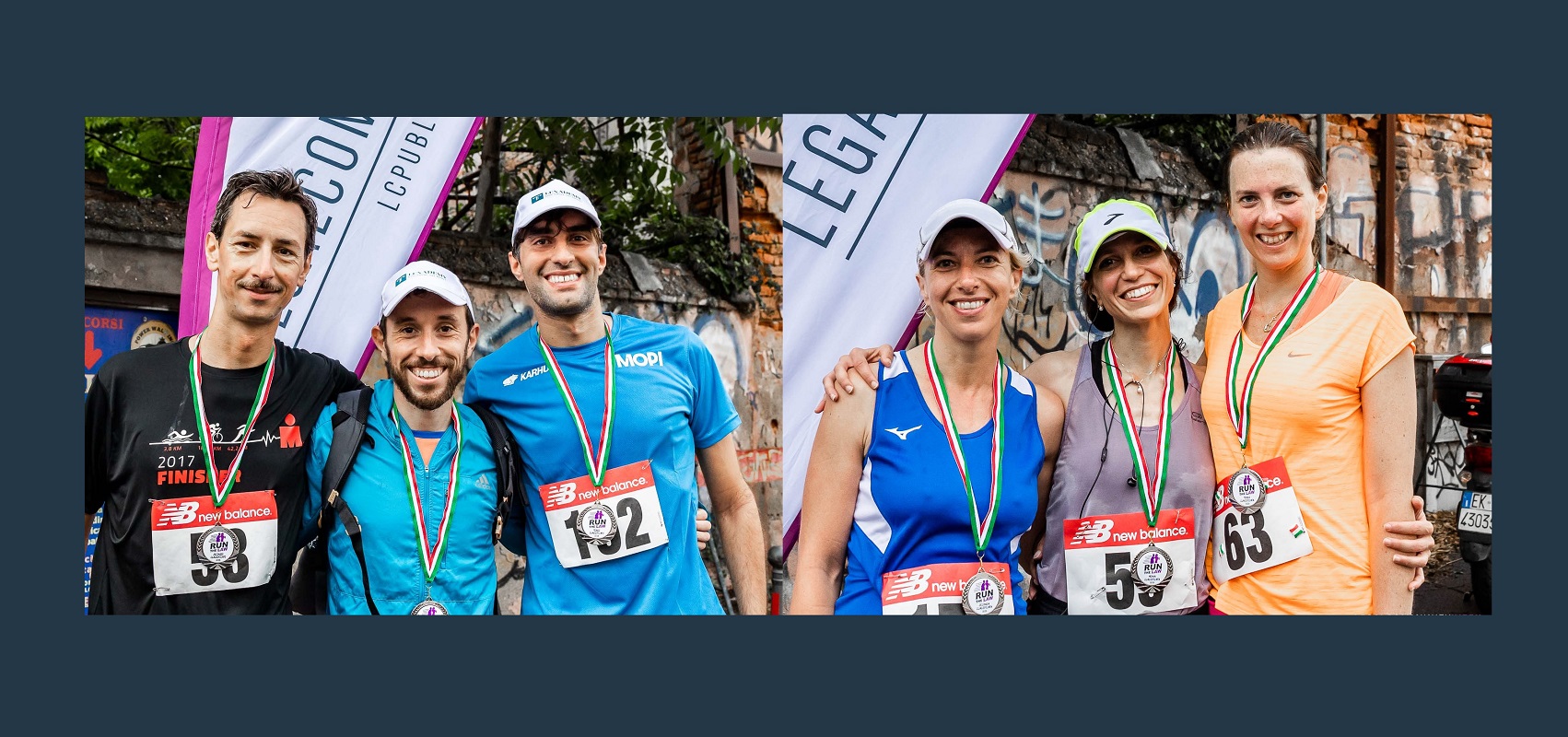 After the run and allowing time for participants to refresh themselves, the activities resumed at the Principe di Savoia hotel. The morning conference was titled "Frauds in payment services: crisis management, regulatory aspects, and criminal liabilities." It began with a welcome speech by Francesco D'Alessandro, partner at Chiomenti law firm. Nicola Di Molfetta, editor-in-chief of Legalcommunity and MAG, moderated a roundtable discussion featuring Enrico Canna, group head of anti-fraud management at Intesa Sanpaolo; Paolo Dal Checco, digital forensics expert; Francesco Martiniello, chief compliance & Afc officer at Illimity; Jasmine Mazza, senior associate at Chiomenti; Pierluigi Perri, of counsel at Chiomenti; Vittorio Tortorici from Banca d'Italia; and Benedetta Venturato, senior associate at Chiomenti.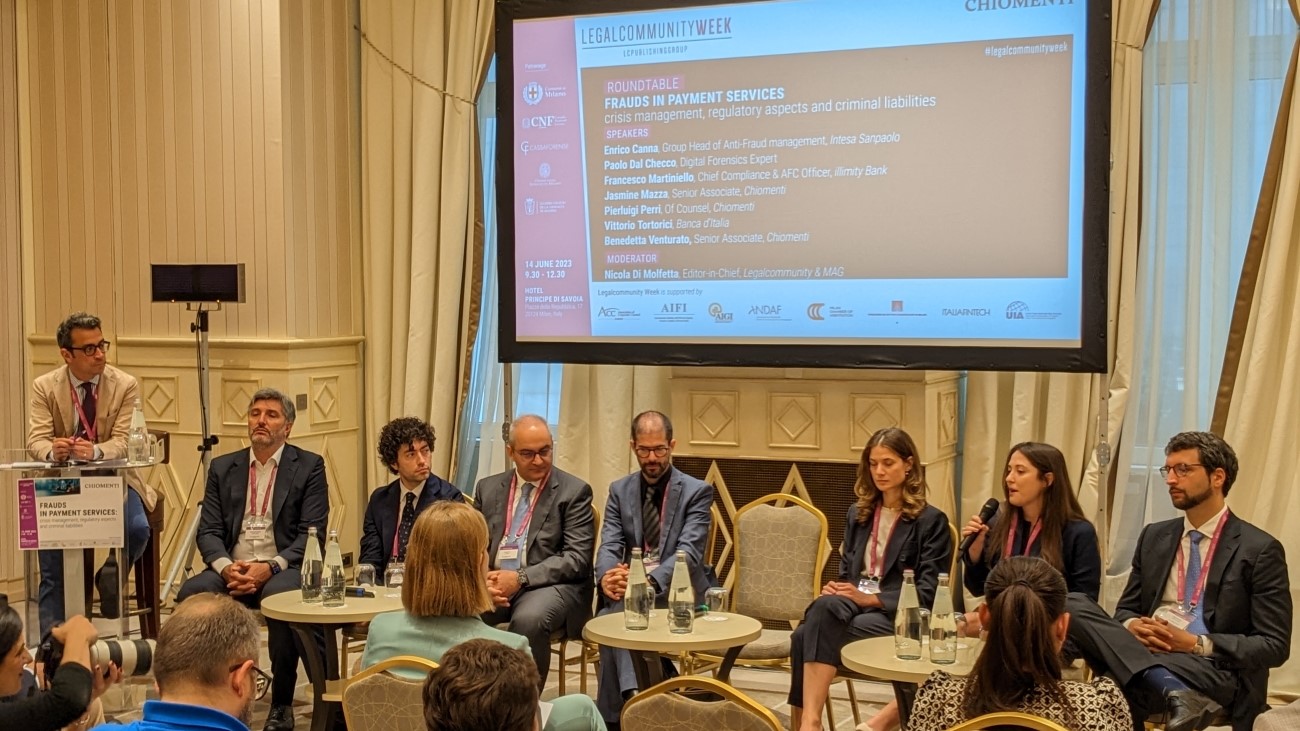 After a quick coffee break, the conference concluded with a dialogue between Francesco D'Alessandro from Chiomenti and Cristian Barilli, public prosecutor at the Court of Milan, on the topic "Problems and perspectives of the criminal fight against financial frauds."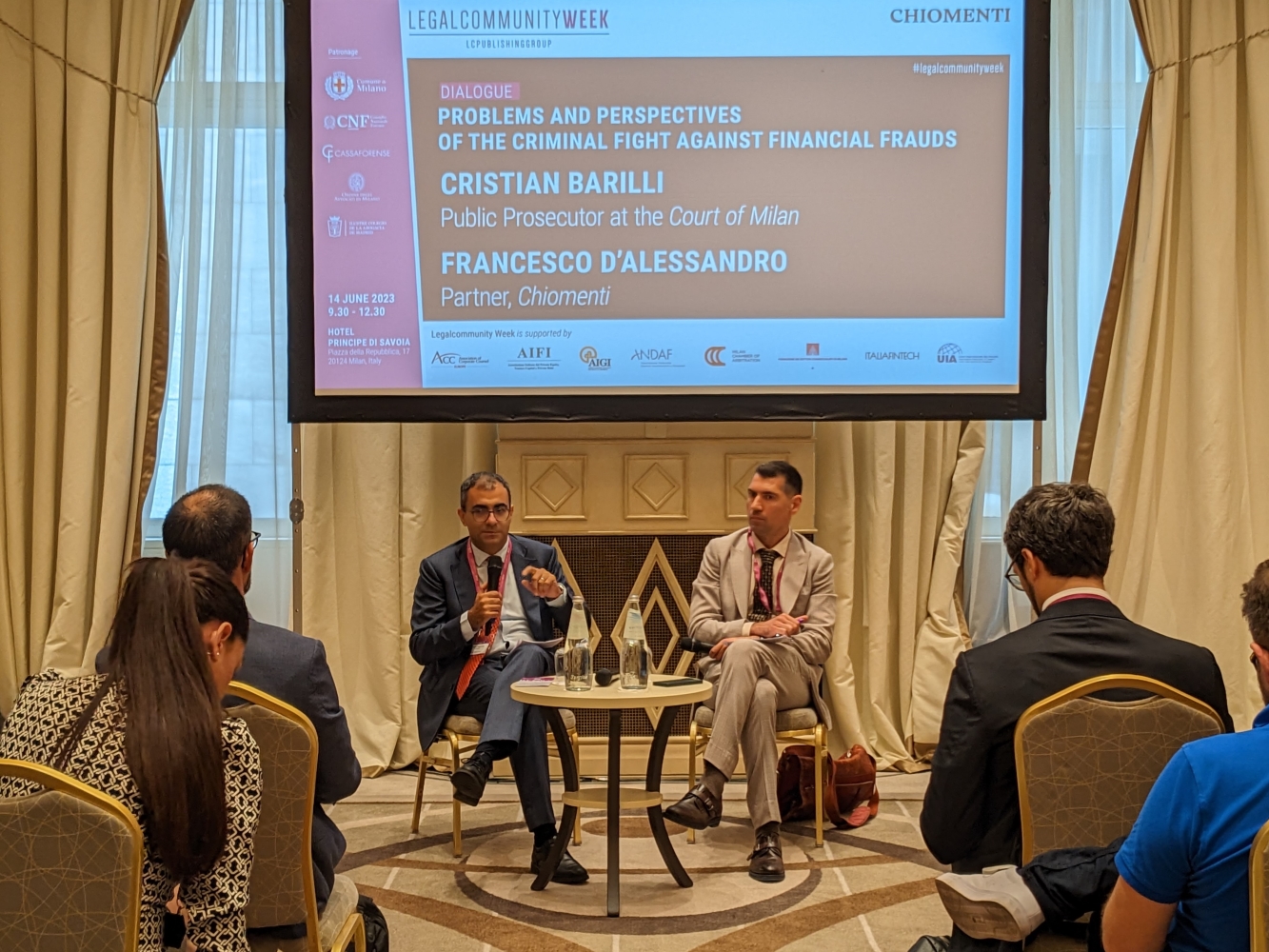 Partially simultaneous with the first segment of the conference, at 9:15am, a roundtable focused on the use of technology in legal processes took place: "What's next?" was the question that Guidi Carlo Alleva, founder and senior partner at Alleva & associati; Federico Busatta, partner at Gianni & Origoni; Giovanni Carella, head of criminal law business assistance and vendor management and white-collar crimes at Eni; Giovanni Cucchiarato, group general counsel at Dedalus; Giovanni Foti, partner at Accuracy; Steve Molloy, director at Accuracy and expert in forensic technology; and Selina Zipponi, group data protection officer at Dedalus, attempted to answer. Michela Cannovale, journalist at Inhousecommunity and MAG, moderated the discussions.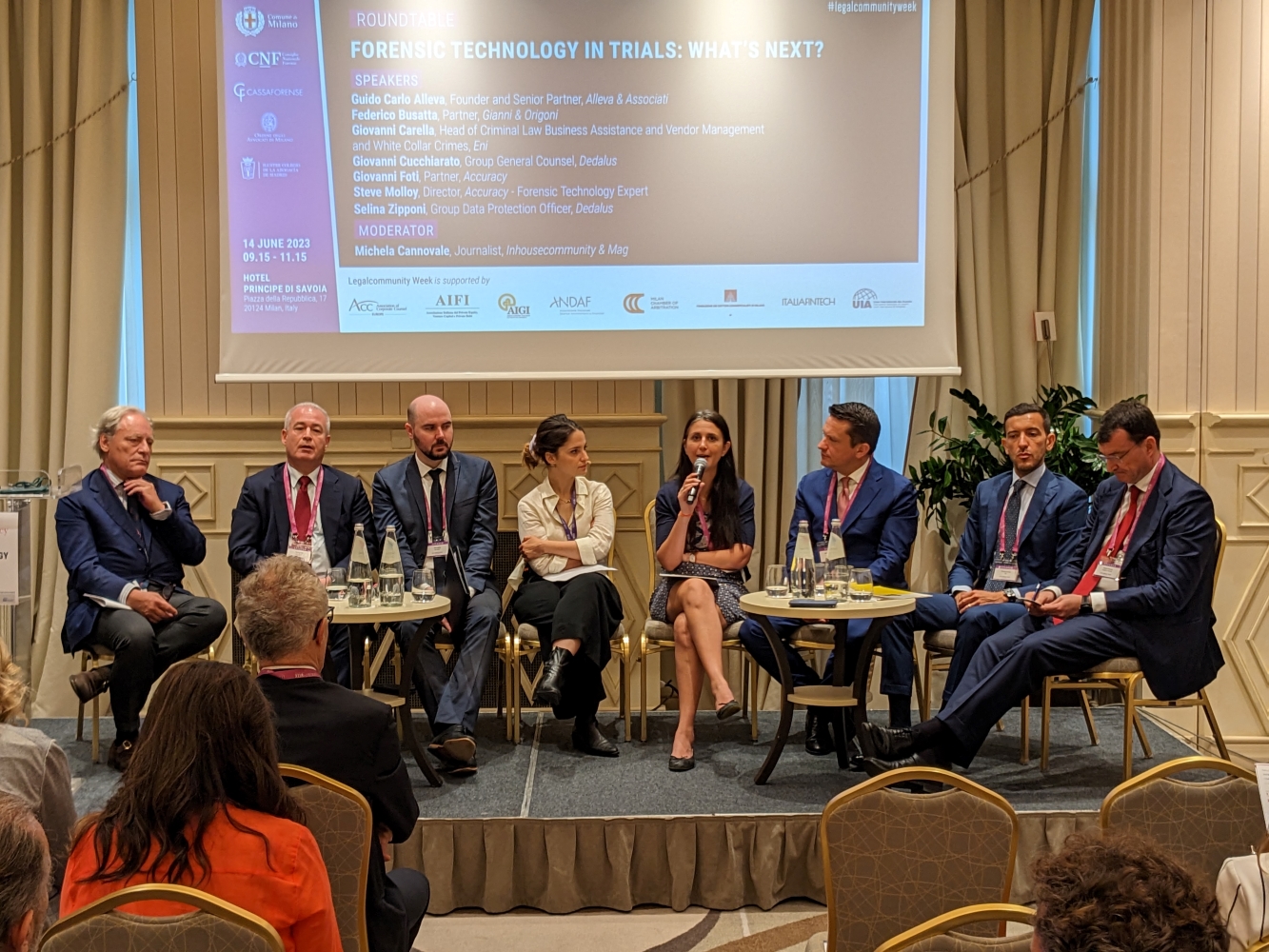 In the afternoon, there were five events at the Principe di Savoia hotel.
From 2:00pm to 4:00pm, the focus was on exploring the opportunities offered by emerging markets, specifically Algeria and Brazil.
In "Focus on Algeria – an opportunity for the Italian economy," Enrico Castaldi, founder of CastaldiPartners, moderated a panel consisting of Abdelkrim Touahria, Algerian Ambassador to Italy; Federico Freni, Undersecretary of State at the Ministry of Economy and Finance (remotely connected); Giovanni Pugliese, Italian Ambassador to Algeria (remotely connected); Brahim Taïri, lawyer and president of the National Union of Lawyers' Associations (Unoa); Faycal Drioueche, lawyer and president of the Algerian Foundation for Research and International Law Cooperation (Afrilc); Fabio Fagioli, group general counsel at Maire Tecnimont; Aldo Bellone, Vice President of the Work Abroad Committee; and Fabio Moretti, senior consultant at CastaldiPartners.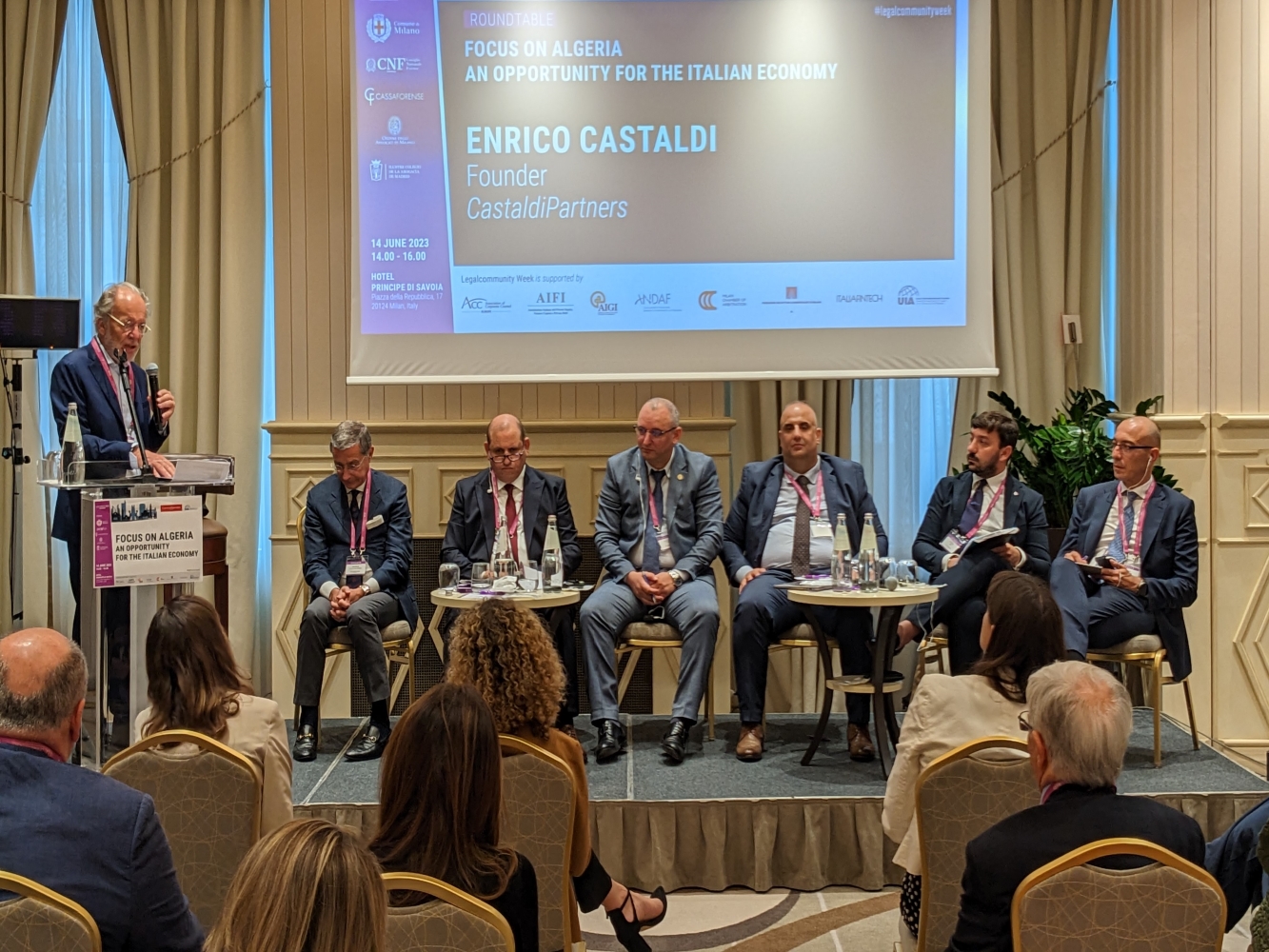 "The Doing Business in Brazil" was the name of the other roundtable, moderated by Julia Gil, journalist at Iberian Lawyer and FinancecommunityEs. The participants included Stefano Brunello, partner and country partner for Latin America at BonelliErede; Marcos Chaves Ladeira, partner at Pinheiro Neto Advogados; Giovanni Paolo Falcetta, partner at Tozzini Freire Advogados; Isabel Fernandes, general legal counsel at Grupo VIsabeira; Graziano Messana, managing partner at GM Venture and president of the Italian Chamber of Commerce in Sao Paulo; and Giuseppe Perrucci, CEO of Azimut Brazil and Portugal.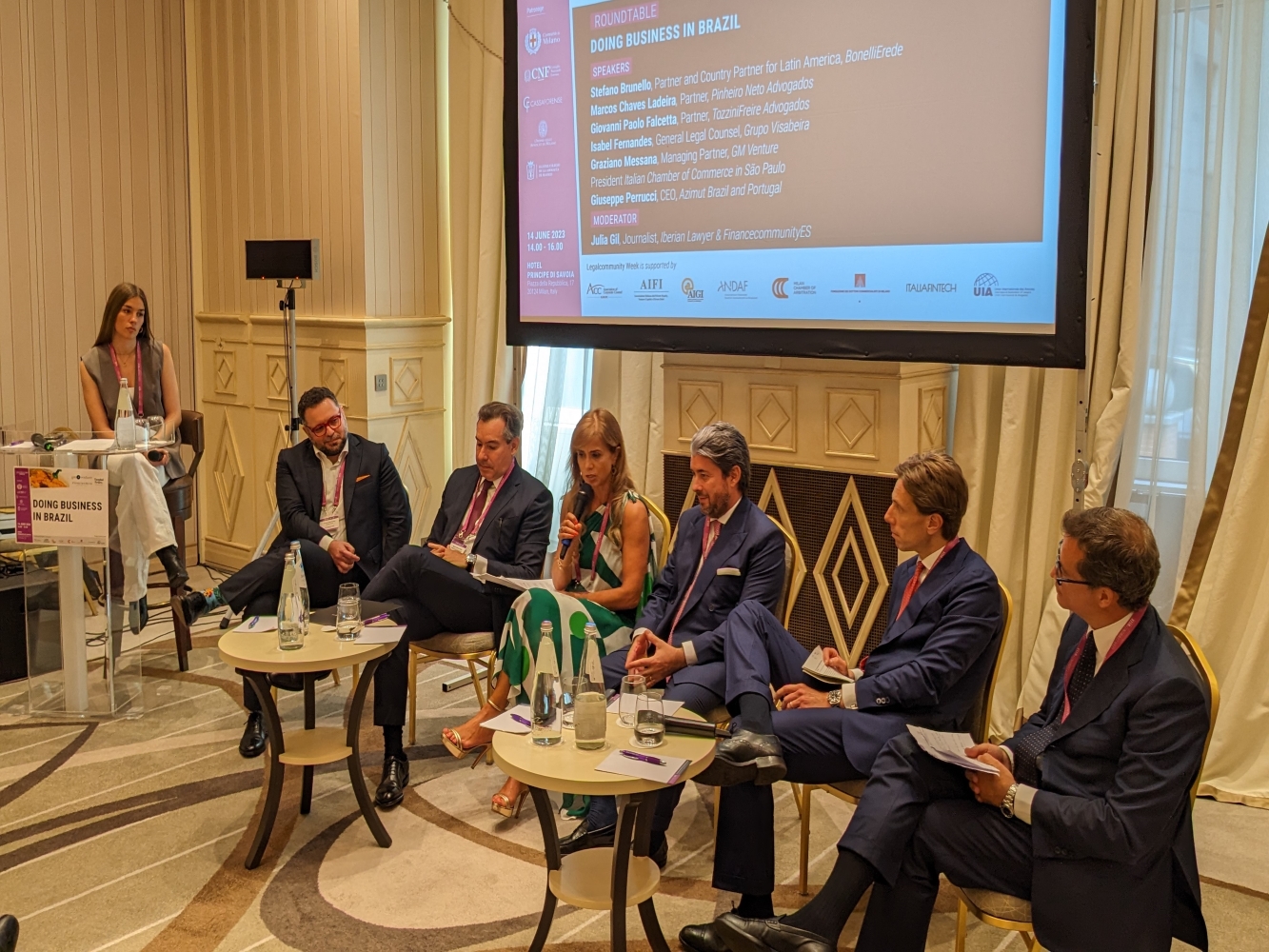 During the next time slot, from 4:00pm to 6:00pm, the remaining three meetings took place.
The first one delved into the contribution of in-house counsel to business innovation and growth, with a roundtable titled "In-house counsels as drivers of business innovation and growth." Four general counsel formed this panel: Germana Mentil from Italgas, Simona Musso from Lavazza, Claudia Ricchetti from Ferragamo, and Sara Rizzon from Mondadori. Their interventions were moderated by Fabrizio Gallotti, country manager Italy at Dilitrust. The closing remarks were given by Maha Driss, group legal and compliance manager at Coficab.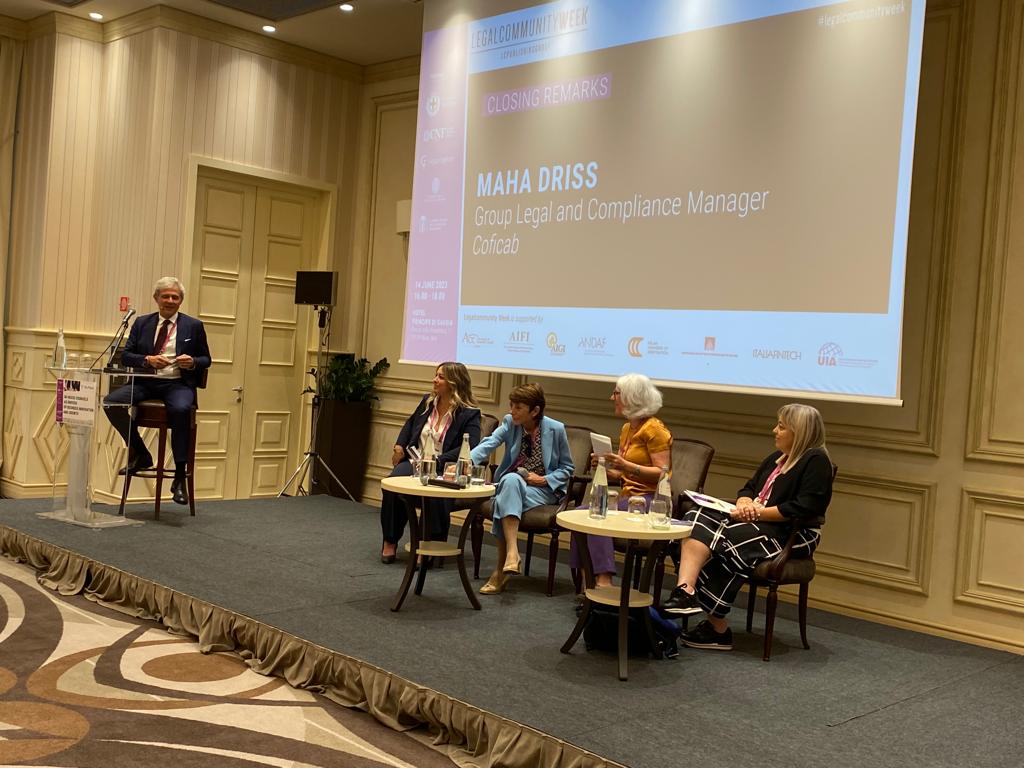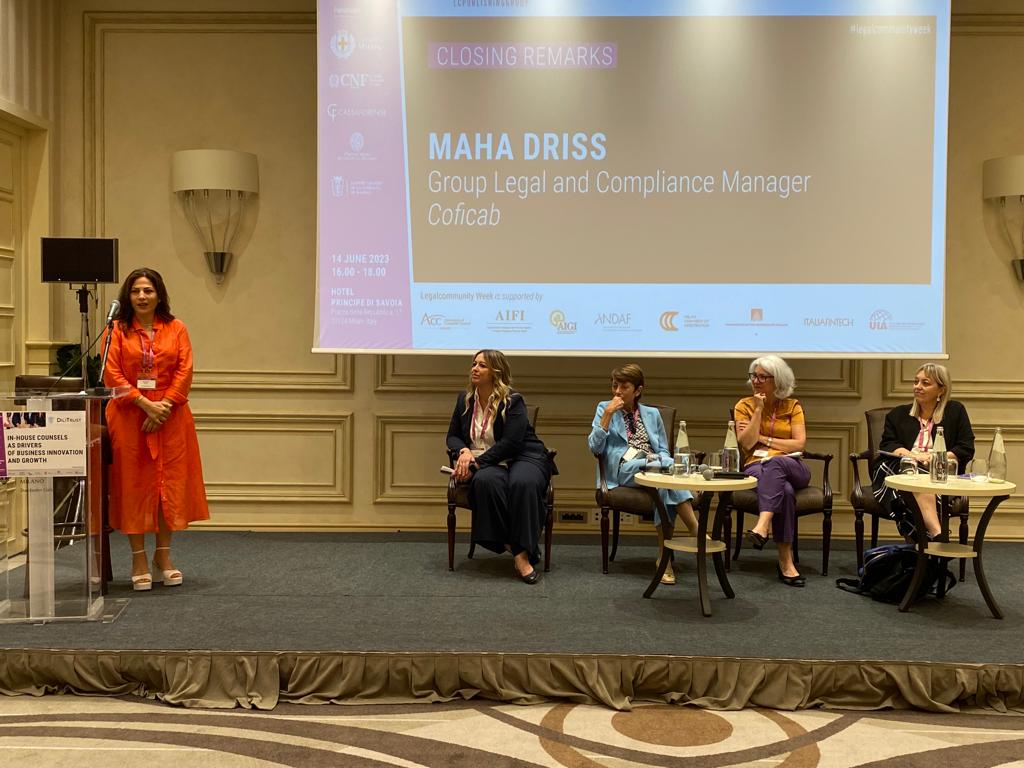 Simultaneously, there were two discussion sessions on the topic of "Energy Infrastructure." The first one, titled "The Energy Trilemma: use case, models, and regulation for sustainable, reliable, and competitive energy," featured Umberto Baldi, general counsel at Snam; Vita Capria, head of legal & corporate affairs at EF Solare Italia; Mattia Riccardo Petrillo, partner and head of energy & efficiency at EY SLT; and Simone Rodolfi, head of origination & business development at Axpo Italia. The moderation was done by Eleonora Fraschini, journalist at Financecommunity and MAG.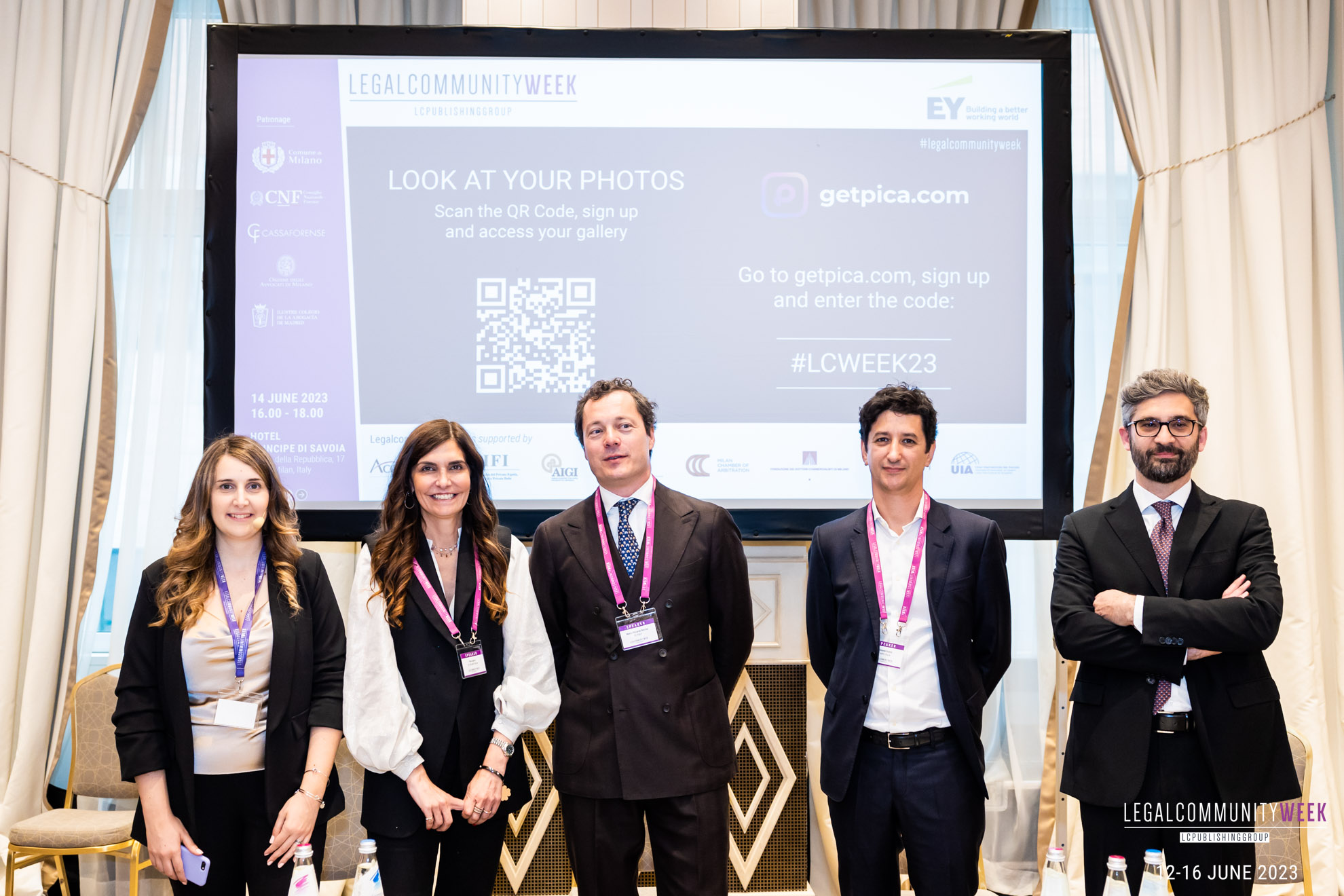 Following that, a roundtable on PPP (Public-Private Partnership) was moderated by Oriana Granato, partner and head of projects and infrastructures at EY SLT. The panel consisted of Delfina Biroli, head of infrastructure & energy debt advisory at the IMI corporate & investment banking division of Intesa Sanpaolo; Roberto Massarenti, head of infrastructure finance at Natixis corporate & investment banking; Federico Merola, CEO and general director at Arpinge; and Micaela Vescia, head of corporate and legal affairs at Azienda Trasporti Milanesi – Milano.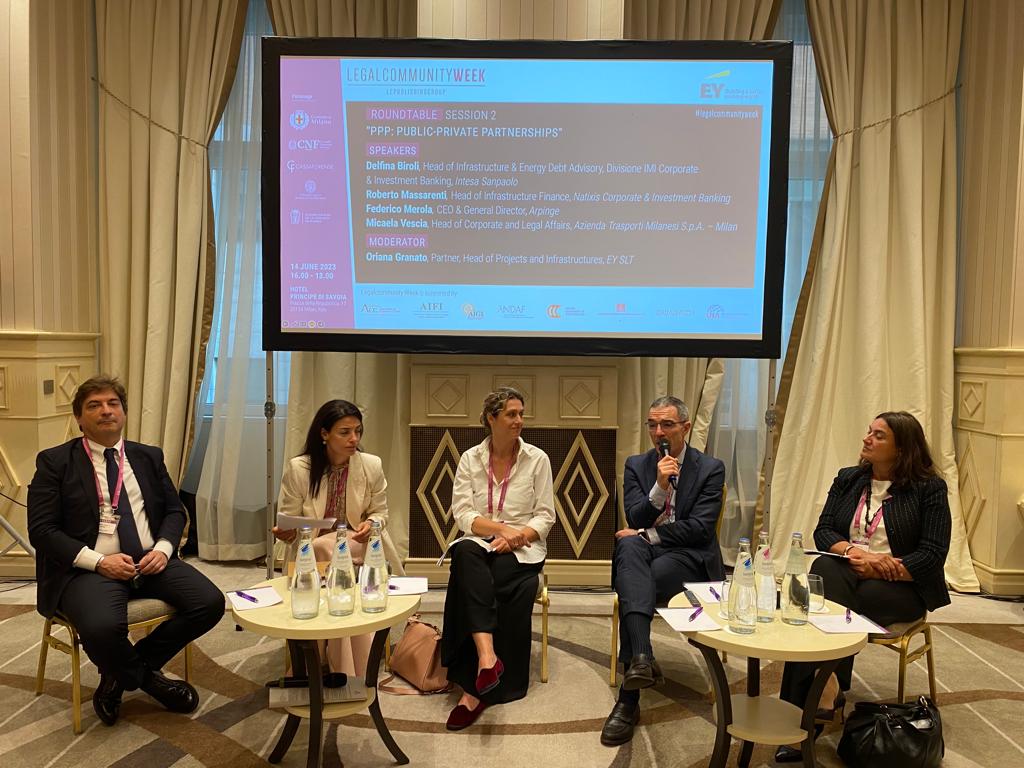 Simultaneously, a roundtable focused on patent management and intellectual assets took place: "Achieving an efficient IP portfolio: creation, protection, and monetization of key intangibles." Moderated by Giuseppe Salemme, journalist at Legalcommunity and MAG, the discussion involved Stefano Baracco, Executive Intellectual Property Manager at Piaggio Group; Luca Bernasconi, Financial Advisor at ApicAll; Silvia Bertuccio, Partner – European and Italian Patent Attorney at TCBM; Fabrizio Caretta, Group General Counsel at Dolce & Gabbana; Gabriel Cuonzo, Managing Partner at Trevisan & Cuonzo; Guido Pontremoli, Global IP Head Corporate Intellectual Property-Patents at Chiesi Farmaceutici; and Paolo Rezzaghi, Head of Intellectual Property Rights at Brembo.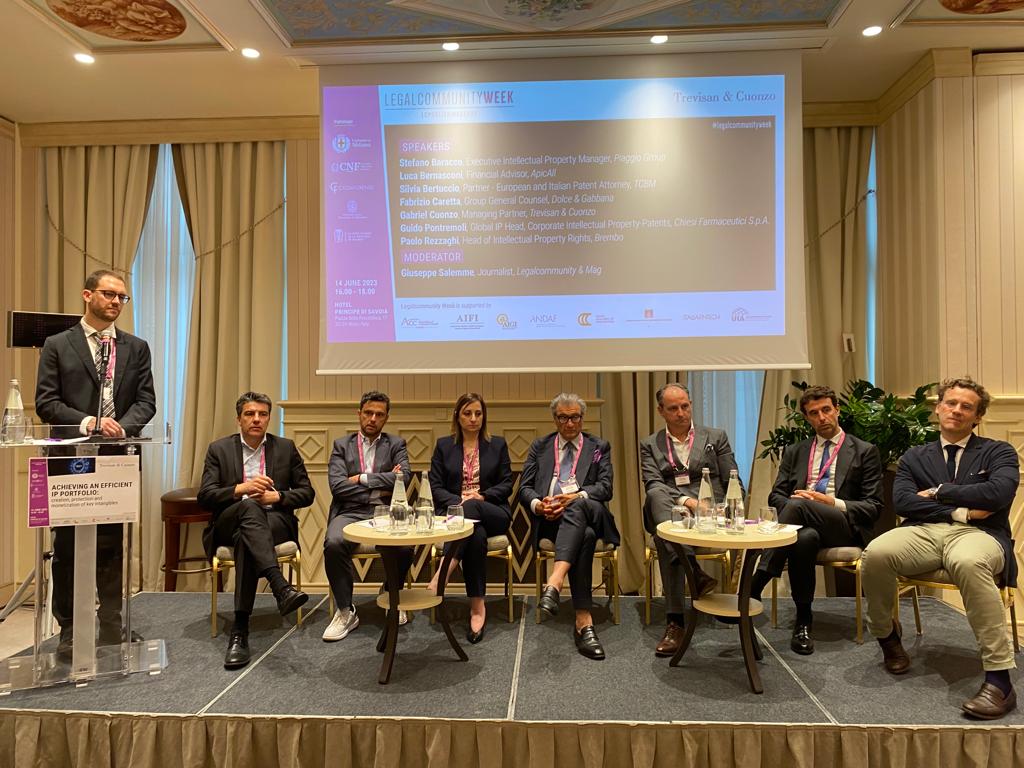 At the end of the sessions at the Principe di Savoia, one of the most anticipated moments of this (and not only) edition of the Legalcommunity Week took place: Rock The Law. Ten bands composed of lawyers and other professionals from the business community performed two covers each on the iconic stage of Milan's Fabrique. That was the format.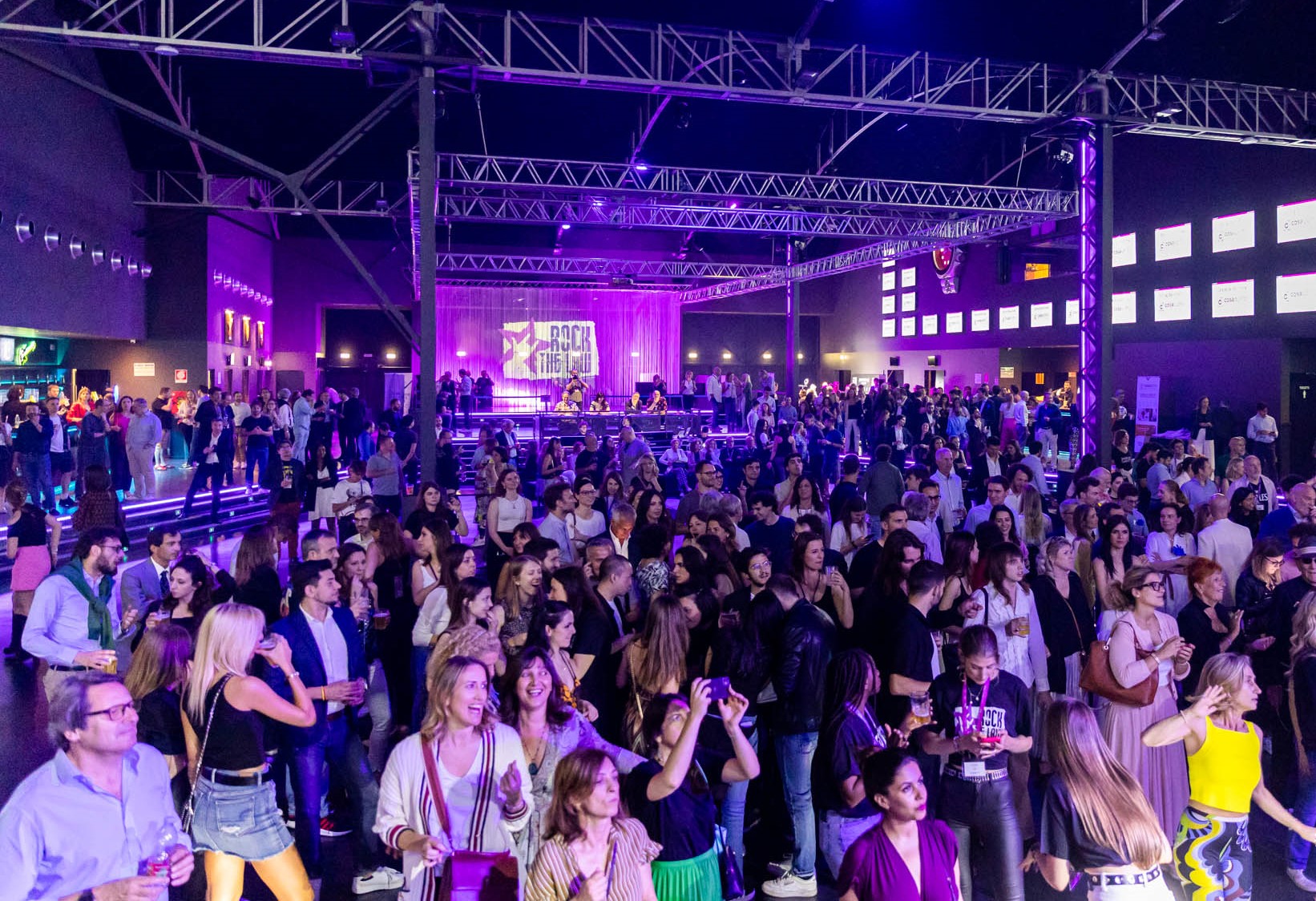 The winners of the competition were the School Mates, participating for the first time.